HR Department
The Brothers of Charity Services Ireland South East Region support people with intellectual disabilities to be valued citizens in their local community, to have ordinary life experiences, and to be closely connected to family and friends. We are committed to supporting people to make choices about their lives and to the provision of quality services that meet people's needs.
The Brothers of Charity model of service is based on Personal Outcome Measures requiring employees to be flexible in their approach and their working hours to provide a quality service delivery for each individual.
We pride ourselves on our staff treating each person with an intellectual disability as an individual and at all times acknowledging and respecting the rights and personal dignity of the person.
We require bright ambitious individuals who have a positive attitude towards working with individuals with an intellectual disability and who are committed to ensuring that our individuals lead as normal and enjoyable life as possible. In return for this dedication and commitment we offer the following:
Competitive Rates of Pay – HSE consolidated scales
Excellent working conditions
Defined Benefit Pension Plan – Single Public Service Pension Scheme (SPSPS)
Opportunities for further career development
Exceptional Training and Development
The Brothers of Charity Services Ireland is an equal opportunities employer.
Contact Details:
Human Resources Manager: Elizabeth Tyrrell 051 833420 elizabeth.tyrrell@bocsi.ie
Senior Human Resources Officer: Sonya Kirwan 051 833470 sonya.kirwan@bocsi.ie
Human Resources Generalist: Vacant
Human Resources Assistants:
Sabrina Murphy 051 833421 sabrina.murphy@bocsi.ie
Geraldine Heffernan 051 833463 geraldine.heffernan@bocsi.ie
Joanne McGrath 051 833425 joanne.mcgrath@bocsi.ie
Belmont Park, 051 833400
Psychology Department
Psychology Department, Brothers of Charity Services, Waterford provides multiple services for growth and independence to PWID. Following are the salient features of the services, the Department offers.

Psychotherapy: The Department provides services of psychotherapy to individuals who have behavioural, emotional and mental health issues. It trains the frontline staff, provides consultation to the families, assist in policy making and conduct therapeutic sessions for people with intellectual disabilities. The Department played a key role in the development of residential and day services for PWID.

Psychological Assessment: The Department provides the services of different types of psychological assessment essential for supporting PWID. The Department is skilled to use most up to date assessment measures for cognitive, diagnostic, functional and capacity assessment.
Staff Training: The Department is actively involved in frontline staff training on various aspects of support required for PWID.
Psychiatry
The Brothers of Charity Services South East Psychiatric Department is a Consultant delivered specialist service. This service provides expert psychiatric assessment, diagnosis and treatment to adults with an intellectual disability. It is a consultation liaison community service. The psychiatric service works to promote close working relationships with local disability teams and primary care services to deliver optimum care within available health resources.
Social Work Service
The Social Work Service seeks to offer emotional and practical support to promote the independence and well- being of individuals supported by services and their families and carers.
The social worker engages with other disciplines in the multidisciplinary team and the community to achieve this.A wide range of services is provided including the following:
Assessing the needs of individuals to ensure their particular circumstances are considered when planning services.
Advocacy and support on behalf of individuals and their families to enable people supported in services to realise their full potential and exercise their rights.
Linking with the appropriate support agencies in relation to safeguarding and welfare issues as they arise.
Counselling support services.
Groupwork for individuals, staff and families.
Co-ordinating respite, home support and homeshare services.
Training for individuals, staff and families.
Advice and information on benefits and entitlements.
Access to the social work service is open to all people supported by the services.
Following referral (self-referral, family/carers, staff and community clinicians) an initial assessment of the needs is carried out and service provision prioritised.
Speech and Language Therapy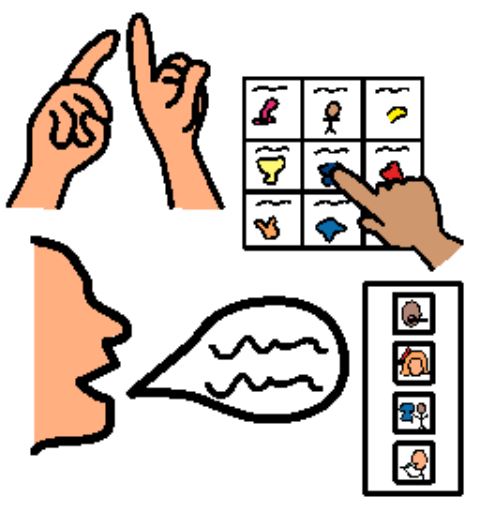 The speech and language therapy team endeavour to:
• Provide a person centred quality service for adults in our day and/or residential services with communication and/or eating, drinking and swallowing difficulties by supporting them as needed:
◦ to communicate as best they can in their everyday lives.
◦ to eat, drink and swallow to the best of their ability whilst maintaining safety.
• Use the resources we have as effectively as we can.
People supported may have difficulty, for example:
• understanding what is said
• asking for things and expressing their thoughts, feelings and experiences in everyday settings
• using speech as a means to communicate
• making choices
• paying attention and remembering
• reading
• being independent, included or participating in situations associated with communication difficulties
• with social use of language
• due to barriers in their environment
• eating, drinking and/or swallowing
Speech and Language Therapy Services provided include:
• Assessment using a variety of appropriate means for example observation, contact with people who know the person well, informal and formal testing.
• Intervention/management of communication and eating, drinking and swallowing difficulties using a range of approaches e.g. indirect therapy which involves supporting significant others around the person to support the person's communication and eating, drinking and swallowing skills on an everyday basis, programmes and recommendations, direct therapy, team work.
• Promoting and using a total communication approach which involves the use of a range of different means of communication e.g. objects, pictures, gestures, manual signs, communication wallets and devices with the aim to achieve the best outcome for the person involved. This may involve supporting people to trial different systems.
• Supporting the use of a range of communication tools as appropriate e.g. talking mats, communication passports, visual boards, social stories.
• Supporting and working and liaising with person him/herself, key staff in person's life, people across different disciplines and services, family members and others as appropriate.
• Providing training/education to relevant others to support the management of the person's difficulty e.g. by building their understanding, knowledge and skills in responding to persons communication and/or eating, drinking and swallowing difficulties. The support and involvement of significant others is essential to the overall effectiveness of intervention.
• Advocating for people with communication and eating, drinking and swallowing difficulties.
Direct work in the 'clinic' room may not be most effective. The level and types of support varies depending on the needs of the person concerned and their situation.
Contact details
Speech and Language Therapy Manager, Speech and Language Therapy Department, Brothers of Charity Services Ireland South East Region, Belmont Park, Ferrybank, Waterford. DDI: 051 833540
Senior Speech and Language Therapist, Brothers of Charity Services Ireland South East Region, Child and Family Centre, Civic Offices, Friar Street, Cashel, Co. Tipperary. Phone: 062 85050.
Useful links:
www.lamh.org
www.carolgraysocialstories.com
www.middetowncentreautism.com
www.communicationmattersc.org.uk
www.callscotland.org.uk
Link to easy to read document about what a speech and language therapist can help with and how a speech and language therapist works.
Sports and Recreation
The sports and recreation department was established in 1980. It started primarily as a PE department but expanded over the years to provide for more diverse interests.
The department provides an extensive range of recreational opportunities to each individual.
These opportunities include sports training, physical education and health and fitness. We also provide opportunities in adventure sports and camping. Individuals are also encouraged and supported should they wish to become involved in local Special Olympics Clubs.
The importance of physical activity is promoted and activities are adapted to accommodate the interests and aptitudes of each individual.
In addition to physical activity the recreation department a variety of non-sports related opportunities. These include all the performing art.
We have regular inclusive and innovative productions in local theatres. These have included Strictly Come Dancing and Pantomimes. "Your wish is our command".
The Department`s staff is complemented by a core of volunteers and students who enhance the repertoire of activities and initiatives.
The main objective of the Recreation Service is:
To provide a wide variety of achievable and meaningful recreational opportunities for each individual.
To utilize community facilities to promote community inclusion.
To establish and maintain partnerships in the community including local colleges, Sports Partnerships, Clubs and Performing Arts Groups.
To ensure that the department responds to the changing needs of the individual by adjusting according to their needs and interests.
To ensure that activities provided are both challenging and enjoyable and that they contribute to improved confidence and self-esteem.
To ensure that each opportunity provided reflects the ethos of the Brothers of Charity Services Ireland.The department is progressive and open to encompassing new ideas in order to provide choices that are in keeping with individual needs.
Buildings & Facilities Department
The Buildings & Facilities Department is responsible for the planning, design, construction, operation and maintenance of all BOCSISER facilities including residential houses and day centres whilst co-ordinating external construction professional teams and adhering to all building, fire and safety regulations. This department also secures additional housing through Capital Assistance Scheme funding via local authorities and the Department of Housing, Planning and Local Government.
Health and Safety also forms part of the Buildings & Facilities Department. The H&S function supports the services through the creation and dissemination of internal H&S policies, safety statements, risk assessments and daily H&S support to staff, people supported and external visitors/contractors whilst adhering to HSA, HSE, HIQA and Public Health policies and procedures.